At the end of every school year when I am required to do the kids assessments, I look at their folders and see the empty section on Phys. Ed. and think "uh-oh". I mean sure the kids DO STUFF all the time. They run around. We play baseball in the backyard. We are actually a very active family. We hike a lot, go for walks and love being outside. They get plenty of exercise but as far as actual "fitness"....not so much.

When I got the chance to review
Family Time Fitness - Fitness 4 Homeschool
, I thought it would be pretty neat to have a curriculum that I could actually follow, teach fitness and be able to document.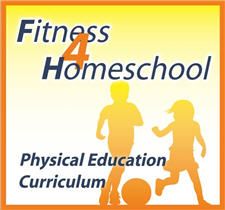 This program was created with homeschoolers in mind. It is packed full of fun fitness activities divided into 260 individual lessons. Each lesson is meant to take 30-45 minutes and it is recommend that the program is used at least 3 days a week.
For the program we needed to have a few items. Bean bags, hula hoops, balls, etc. If your house is like mine, you will already have most of these items! Truthfully, my house is overflowing with these things!
The lessons are very easy to follow. Each lesson explains in detail the activity being taught along with a demonstration video. It has a warm up section, activity/game play, cool down and an outdoor activity. The lessons can be done inside or outside. We are an outside kind of family so we opted to head outside for our fitness time. Although, the kids could be found going through my fitness binder (printed copy of this program) to find "cool things to do" on rainy days.
How we used the program...
We tried to use the program 3 times a week. Most of the time we did it more often than that.
We had to tweak the program to fit our needs. My oldest daughter is confined to a wheelchair so many of the activities were impossible for her to do as they were written. That's ok though because it was pretty easy to do. For example, for the "shuffle pick-up" we had to place 5 objects on one side of the yard. Shuffle to the objects. Pick one up and shuffle back to the starting point. Repeat until all objects are picked up and taken back to the starting point.
I made it into a race and paired the kids up into teams. One person was the shuffler and they would shuffle across the yard, pick up the object and shuffle back to the middle of the yard. The other teammate was waiting for them and they had to run (or drive chair) to the other side of the yard to drop off the object. The loved it and it has actually been played many times.
Obviously fitness is meant to get you moving and involves gross motor skills. So there were many things that were just impossible for Taylor to do. For those things, I would have her be the one to count for the kids as they did their exercises, help me with the stopwatch and she was great at encouraging them. They had their own little cheerleader.
They really enjoyed all of the activities and between giggles and laughter they got a great workout!
My final thoughts...
I think the program is great and is a wonderful way to add fitness to your homeschool. I would definitely recommend this to other homeschool families and we will continue to use it in ours!
You can purchase your copy of level 1 for only $57 by visiting their
website
.
Be sure to check out what the rest of
The Crew
had to say.
Disclaimer: I received this product for no compensation. My only requirement was to write an honest review. All opinions are mine.